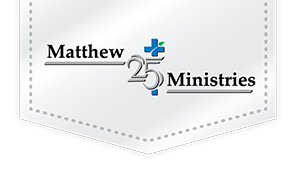 Montgomery Lincoln
is proud to support
Matthew 25 Ministries
, an international humanitarian aid and disaster relief organization helping the poorest of the poor locally, nationally and internationally. By rescuing and reusing products from major corporations and manufacturers, Matthew 25: Ministries impacts the lives of more than 20,000,000 individuals throughout the United States and around the world each year. 
More than 99% of Matthew 25: Ministries' cash and in-kind donations go toward programs.
For every sold vehicle $25 is donated to Matthew 25 Ministries!

---